INTERVISTA SUMMER 2019 - FIRST LAUNCHED BACK IN 2016
AMAART studio is an architectural firm that believes ardently in the seamless integration of innovative architectural design in established urban landscapes. An award winning architectural firm based in Italy.
Founded by Alessia Maggio, who after ten years teaching architecture at Rome's famous Sapienza University decided to take the plunge and launch her own architectural studio. The success they've enjoyed and the reputation they've established is the envy of their peers in the industry.
Following that well-deserved recognition, we spoke 2019 with Chief Architect, Alessia Maggio, Arch. Ph.D to find out more about her singular design vision.
Alessia Maggio's passion belongs to international metropolises and architectural delights. Spending many of their formative years in London, New York, Rome, she opened her new studio in a fabulous and magical place in Italy. Sirmione, located along the Lake of Garda.
Finding architectural Inspiration through Art & Nature 
ICONIC AWARD 2018 - ARCHITETTURA INNOVATIVA
We are proud to announce that the Vigna Clara Station by Amaart has been awarded width the "Iconic Award 2018 – Selection" in the "Innovative Architecture" range. Supported by the German Design Council the official awards ceremony will take place on 8 October 2018 at the architecturally significant Pinakothek der Moderne in Munich.
The Iconic Award is the first independent international architecture and design competition to take into account the interplay between the various disciplines. The Iconic Awards particularly reward excellence in innovation and visionary buildings width the ability to deliver innovative and cross-cutting solutions.
Iconic Award 2018 
BIENNALE ARCHITETTURA 2018
Palazzo Mora
Strada Nova 3659
30121 Venezia (VE) Italia

We breath a restless heart without architecture. In light there is an extension of material, the wind will blow its words throughout form, and gather man along the path. A timeless thickness glow, to find a measure of what is done in our existence. The architect can walk a lonely road when designing a fundamental change. But in the end the formal expression will have brought the answer: ARCHITECTURE and MAN will hold TIME and SPACE. In Unity.
RESTYLING DELLA STAZIONE DI VIGNA CLARA
Il progetto della stazione di Vigna Clara, connette dei brani urbani nel tentativo di riportare le linee architettoniche, trovate nel quartiere, in fusione all'interno dei volumi di nuovo progetto. Realizzato Anno 2016. Roma.
Il fotografo Roberto Galasso racconta la stazione realizzata. Progetto e filosofia arch. Ph.D. Alessia Maggio.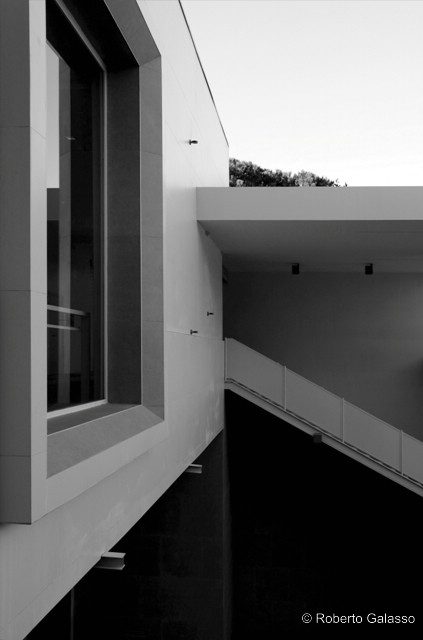 CONCORSO INTERNAZIONALE DI IDEE PARCO DEL COLLE BELLARIA
Premio vinto con la convinzione di sviluppare un segno forte per la città di Salerno. Premiazione ufficiale 25 febbraio 2015, Salone dei Marmi, Salerno. Vincitore del primo premio dell'ambito Concorso Internazionale d'Idee, Parco del Colle Bellaria ed Antenna / Landmark Salerno. Salerno premia l'antenna di design che elimina i tralicci dal Colle Bellaria, in Edilizia e Territorio. Sole 24 Ore, 18 Feb 2015, ilsole24ore.com – ediliziaeterritorio.

Un faro nella notte, ben visibile per chi arriva a Salerno dal suo ingresso principale, il mare. Un punto di riferimento fortemente rappresentativo del percorso di collegamento con la città attraverso il parco.
Un arco integrato Antenna
Colle Bellaria, Salerno
7 Settembre 2015